Dr. Jonathan Donath, a dedicated chiropractor, never thought he would run a nonprofit organization.
Occupied with his thriving chiropractic practice in White Plains, NY, the idea of establishing a nonprofit never crossed his mind.
Dr. Donath believed his purpose lay in the healing touch of chiropractic care. He found immense fulfillment in easing people's pain when conventional methods fell short.
"Hashem blessed me with the hands and knowledge to help people who are in pain," Dr. Donath said. "In my clinic, I not only get to help people who are suffering, I get to make a kiddush Hashem every day."
However, a turning point in Dr. Donath's life occurred unexpectedly around five years ago, altering the trajectory of his journey. Little did he realize that his mission to heal would soon extend far beyond the walls of his clinic, touching lives and alleviating various forms of pain on a global scale.


Dr. Jonathan Donath is a graduate of the University of Bridgeport College of Chiropractic and is the author of
The Neck & Back Pain Solution (2015)
.
The idea that changed everything
One night, after a long day of working at his clinic, Dr. Donath made his way to his local shul for Maariv, the customary evening prayer. As he placed a dollar into the tzedaka (charity) box, just as he had done countless times before, a profound realization dawned upon him. Inspired by a recent class emphasizing the impact of even the smallest mitzvot (good deeds), he contemplated how to ensure the fulfillment of the mitzvah of tzedaka every single day for just a dollar.
"As a child, my mother would give me a penny or nickel to take to school as tzedaka every day," Donath had thought. "What happened to that? We all give, but we don't all necessarily give every day."
"I remember struggling to concentrate for the rest of Maariv because I was so excited to go home and Google to see if someone else was doing this already," Donath said.
To his surprise, Dr. Donath found no organization actively distributing tzedaka on a daily basis. Driven by his newfound vision, he promptly contacted his website designer, Shaul Hen, to discuss the development of a dedicated platform.
Encouraged by Shaul's enthusiasm and support, Dr. Donath then reached out to his two closest friends, Shlomo Ressler and Rami Strosberg, who, alongside Rami's wife, eagerly joined the mission to bring this project to life.
Several months of relentless effort and collaboration ensued, culminating in the launch of DailyGiving.org on January 1st, 2019.
How an idea became a reality
One pivotal factor that propelled Daily Giving to gain significant traction was its partnership with Rabbi Paysach Krohn, a renowned figure in the Jewish community.
Driven by the vision of expanding Daily Giving's reach, Dr. Donath recognized the potential impact of having Rabbi Krohn endorse the initiative, drawing parallels to his influential role in promoting Torah Anytime.
"When I spoke to Rabbi Krohn on the phone for the first time, my heart was beating out of my chest," Dr. Donath said. "I have read all his books and heard him speak countless times. I told him the idea of Daily Giving, and he loved it immediately."
After establishing a rabbinical board with Rabbi Krohn and several additional prominent rabbanim, Daily Giving was off and running. Dr. Donath sent an email with a link to the new website to everyone in his network.
On the first day Daily Giving went live, 46 people signed up.
"To be honest, I was surprised that thousands of people didn't sign up over the first couple of months," Donath said. "This was such a no-brainer with the potential to have a tremendous impact; why wasn't everyone jumping on board?"
Despite the platform's slow growth, Dr. Donath remained resolute, ensuring that no day passed without welcoming a new Daily Giver into the community.
"If it reached 10 o'clock, and no one had signed up that day, I would call someone new and ask them to join so that no days would go by without at least one new Daily Giver," Donath said.
While the initial intention of Daily Giving was to help secure every Jew the mitzvah of tzedaka on a daily basis, its mission became about much more than that.
"What I am most proud of is the unity we are creating," Donath said.
With nearly 15,000 Jews from diverse backgrounds and varying levels of observance contributing one dollar a day, Daily Giving exemplifies the unity of the Jewish people.
"What more could G-d want then to see his children come together to help our brothers and sisters who are in need?" Donath said.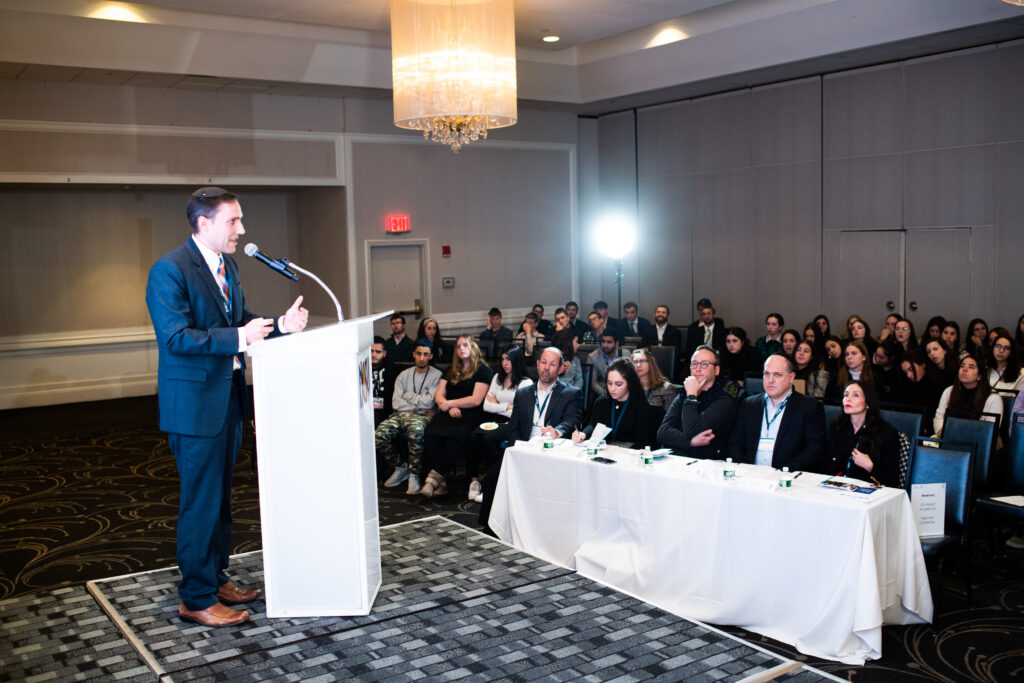 How it works
Operating on a unique model, Daily Giving harnesses the power of small individual donations to generate substantial impacts within Jewish communities worldwide.
Daily Giving designates a different nonprofit organization as the beneficiary each day. This ensures that a diverse range of causes and initiatives benefit from the generosity of Daily Givers.
To keep contributors informed and inspired, Daily Givers receive a daily email revealing the selected beneficiary and shedding light on its impactful work.
The comprehensive scope of Daily Giving's 79 beneficiaries spans various categories of impact. These encompass organizations dedicated to combating diseases, addressing food insecurity, supporting individuals in overcoming trauma, facilitating weddings, providing essential clothing, and much more.

"What sets us apart is that regardless of one's wealth, it's impossible to personally assist everyone in need," Donath explained. "However, with Daily Giving, a mere dollar a day allows you to make a difference across a broad spectrum of crucial issues, such as cancer, mental health, poverty, special needs, substance abuse, and domestic violence. We contribute to an exceptional array of Jewish nonprofits, creating a diversified portfolio of impact."
Daily Giving is currently distributing over $14,400 a day to tzedaka and has distributed over $10 million since its inception in 2019.
"Our goal was, and still is, to get as many people as possible to give a little everyday together so we can collectively help as many people as possible," Dr. Donath said.
One hundred percent of every daily dollar goes directly to Daily Giving's beneficiaries and to those who need it. To ensure the sustainability and growth of the organization, all operational costs, including salaries and marketing, are solely funded through grants and private donors who are passionately invested in the mission's expansion and impact.
How a Daily Giver inspired for generations
"At Daily Giving, we are constantly inspired by the people who join us," Donath said.
One particular Daily Giver left a lasting impact on Donath. It all began when he received a series of consecutive notifications, alerting him to a Daily Giver who had signed up multiple times within a short span of time.
This extraordinary individual had registered to give $1 a day using one email address. Just a minute later, they signed up again, this time with another email. And once again, a minute later, they repeated the process, signing up for a total of five separate times.
Filled with curiosity and gratitude, Donath reached out to personally thank this dedicated supporter. The response he received was both remarkable and heartwarming. The Daily Giver explained that he wasn't signing up for themselves; he was signing up on behalf of his young children.
"That is truly amazing," Donath exclaimed. Curious to know more, he asked, "How old are your kids?"
To his surprise, the children were merely one, two, and four years old. The devoted parent had created Gmail accounts for each of them immediately after their births, reserving their usernames for the future.
"When they're old enough," the Daily Giver said, "and they open their emails for the first time, they will find thousands of emails from Daily Giving and they will see that they have done thousands of mitzvot and have already given thousands of dollars to charity."
This touching story exemplifies the deep-rooted values and long-term commitment that Daily Giving inspires in its community members. It is a testament to the profound impact that even a single dollar a day can have, as well as the enduring legacy of generosity and kindness that parents can pass on to their children.
Harnessing the Power of a Single Mitzvah for Shidduchim
In the first year of Daily Giving, an intriguing incident unfolded when a woman in her mid-thirties decided to sign up for a daily contribution of $2.
Curious about her decision to give $2 a day instead of one, Dr. Donath reached out to her. With candor, she revealed the reason behind her choice: "One dollar is for myself, and the other is for my future husband."

She was signing up for Daily Giving as a zechus to find her soulmate. Miraculously, within a mere six months of her commitment, that woman was engaged to be married.
Deeply moved by this tale, Dr. Donath shared it with Rabbi Benzion Klatzko, who subsequently relayed it to a gathering of singles. Among the listeners was a mother from Chicago whose daughter had endured nearly a decade of dating.
Stirred by the account, she wasted no time and promptly joined Daily Giving for $2 a day, dedicating her contribution to her daughter and her daughter's future spouse. Astonishingly, just one week after joining, her daughter met her soon-to-be husband.
Inspired by the undeniable connection between daily acts of tzedaka and blessings, Dr. Donath attended a Shabbaton and had the privilege of meeting two enthusiastic current Daily Givers who happened to be single. They approached him, requesting his help in finding suitable partners.
Although he had no specific individuals in mind, he encouraged them to consider signing up for an additional $1 a day, dedicating it to their future husbands. Less than three months later, Dr. Donath received an elated text from one of them, informing him of her engagement and crediting his advice for the happy outcome.
Adding to the delight, a recent email arrived, sharing news from a woman who had registered two people with the intention of facilitating their journey towards finding their soulmates. Remarkably, these two individuals also became engaged shortly after joining Daily Giving.
These incredible stories exemplify how Hashem responds to acts of faith, generosity, and genuine intentions. It is a reminder that even the smallest acts of kindness and dedication can have far-reaching effects and elicit blessings beyond our imagination.
Simple idea. Massive movement.

With an astonishing sum of over $10 million distributed to tzedaka since 2019, Daily Giving stands as a shining example of how the power of collective action can bring about remarkable changes in our world. These numbers serve as proof of the transformative impact that our individual actions can have when combined.
Dr. Donath, the visionary behind this movement, enthusiastically shares his vision for the future.
"It's been an exhilarating journey witnessing Daily Giving grow and expand. We should be giving over $100,000 to tzedaka every single day," he said. "To make this dream a reality, we need you. We need you to join us so we can make an even more meaningful impact."
Together, as a united nation, we can achieve extraordinary feats.
Join the movement and discover how you can play a pivotal role in making a lasting impact by visiting dailygiving.org.